If you are looking for Secure X-Ray Storage Options Time Document Storage has the solutions. We can provide you with a quote today and start moving your x-rays to one of our secure records centers as soon as tomorrow.
Speak To The Storage Professionals
We understand that the archiving needs are different for every healthcare provider. The size of your organization or the specialty of your practice will affect the volume of x-rays that need to be stored and the related services. Our staff is trained to help you determine which of our services is right for you and then give you a detailed price quote. After speaking with our experienced staff you will have a complete understanding of our services and their costs.
Secure Delivery & Pick-Up Services
Offsite storage without convenient access is no benefit at all. We make it easy and convenient for you to retrieve x-rays when necessary. We offer same day and next-day delivery or pickup. You can request service by phone, email, fax or online. Our couriers are well trained, background checked and drug screened annually. They are uniformed and always wear their company issued photo ID badges. They deliver or pickup your x-rays in GPS-tracked vehicles, maintaining strict chain of custody at all times.
Bar-Code Based Inventory Control System
Our cloud-based inventory management system gives our clients access to real-time information about their items in storage that can be securely accessed from any computer. We provide our clients with an inventory system that mirrors their in-office file system by cross referencing our bar-codes with their unique file identifiers. You search for files on our system the same way you do in your office. Our bar-code system also tracks the life cycle of your items in storage from the move into storage, any access and the destruction of your records.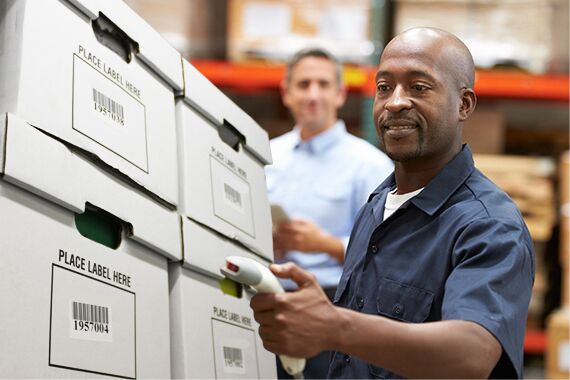 Our records centers are specifically designed for the proper storage, protection and preservation of sensitive documents and all information on hard copy media. All stored items are placed on high-density shelving that is specifically made for the storage of records. Our locations are protected by security and fire suppression systems that are independently monitored 24/7. Access to our facilities is strictly controlled and monitored.
Choose The Right X-Ray Storage Company
All healthcare providers must meet legal requirements when they outsource the storage of their x-ray films. You must contract with a HIPAA compliant records storage provider for off-site storage of protected health information. Even if you have made the transfer to a electronic medical records storage solution, legacy x-ray films still require secure archiving until retention requirements have been met. Time Document Storage is your HIPPA compliant business associate.
When the films have reached their retention date and we have received proper authorization the x-ray films will be shredded at our facility. The destroyed x-ray films will be sent to a refinery plant. Once the x-ray film is received at the processing plant the silver is removed from the x-ray film through the wash process.
The x-ray film is recycled into two products; 99% of the x-ray film is polyester and 1% of the x-ray film is silver. This recycling process allows both the x-ray film and silver to be recycled in an environmentally friendly way.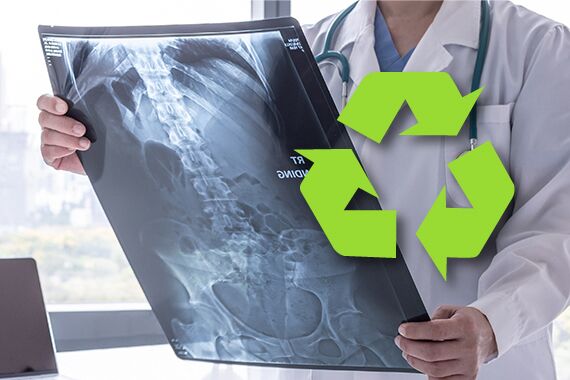 To learn more about our x-ray storage services or to get a quote please give Time Document Storage a call today.