DOCUMENT SCANNING & DOCUMENT IMAGING
Give Time Document Storage a call and we can provide you with a quote for your scanning project today.
Convert your paper records into digital images for secure and immediate access from any computer or mobile device.
Your company, practice or organization may need or be required to convert your files to a digital format. It is not an ALL or Nothing decision. You have economic alternatives. Weather you need to be HIPAA Compliant or corporate mandates require the conversion of your paper records Time Document Storage provides expert services to help you convert your paper into a digital form. Our team of experienced scanning professionals can plan and execute a scanning program that meets your individual needs.
Efficient and Cost Effective
But what if converting all of your documents to image files isn't practical or economical. Time Document Storage has designed the right solution, Scan on-Demand. Our Scan on-Demand service meets the HIPAA compliance mandates and corporate directives that are cost effective. Time Document provides secure information transfer to high resolution images that allows fast access to your current and active files.
80% of the files you are required to keep are inactive. Scanning the 20% of your files that is active is a lot less expensive. Storing your paper files offsite with Time Document Storage and only scanning a file when you need it is our Scan on Demand Program. So why scan 100% of your files when you can store your files offsite and scan the files you need at a fraction of the cost and meet all compliance requirements. Your scanned files can be stored and accessed on our secure servers or they can be uploaded into your EMR, EHR or Document Management software program. You can choose a preferred method for receiving scanned images too, whether secure downloading via FTP, VPN for secure transfer via email or the transfer to a thumb drive.
We can scan medical files, letter or legal size documents, Photos, Graphics & Artwork, Engineering & Architect Plans, AutoCAD, large format drawings, microfilm or microfiche. We can create the images you need in black and white, gray scale or color and provide the images to you in multiple, commonly used formats, such as PDF, jpeg or tiff files.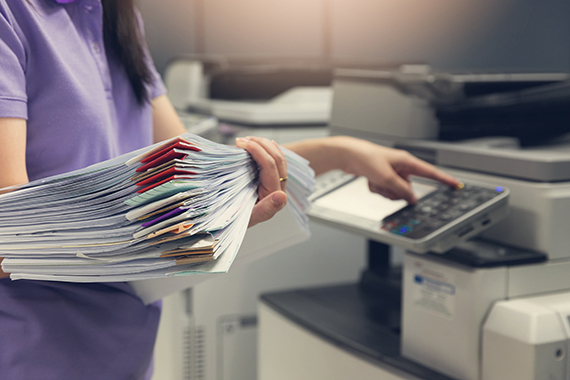 The Benefits of Document Imaging
Document scanning benefits businesses in many ways. Our scanning solutions digitally transform business processes that lead to cost savings, efficiencies, improved customer servicing, boosts employee productivity, and reduced errors. Additional benefits include:
Disaster Recovery Preparation
Protect your information against fire, flood or any disaster with scanning. Your digital files can be stored on a server offsite so in the event of a disaster your information is protected.
Reduce Lost and Miss-filed Records
7% of all documents are lost and 15% are misfiled. With scanning you always know where your documents are and they are easily accessible.
Imaging files will reduce the space you will need in your office to store files. You can put that space to more productive uses.