DOCUMENT MANAGEMENT SERVICES
TIME Document Storage will make managing your business records in storage effortless.
One of the biggest challenges facing businesses today is the management of one of their most important assets, information. TIME Document Storage provides comprehensive Document Management Services for the life cycle of your documents.
What is Document or Records Management?
Managing information on paper is the system of maintaining the records of a business or organization from their creation to their disposal. This will include classifying, indexing, storing, securing, accessing, preservation and destruction of records.
TIME Document Storage's goal is to provide professional assistance to your business or organization to develop a document management program that will aid you with the management of the records and information stored offsite. An effective document management program ensures that information is available when and where it is needed and disposed of when it is no longer necessary.
The Benefits of Records Management
Your firm will benefit from an effective records and information management program with;
These are just a few of the benefits of a good document management program.
Your Employees Will Be More Productive
Did you know that about 60 percent of an average employee's day is spent working with records or documents?
TIME's document management system will make the process of managing and storing paper records more efficient so your team can be infinitely more productive doing more important things with the operation of your company.
What We Do & How We Do It
Time Document Storage's Document Management Services will efficiently and securely index, manage, store and destroy your documents. Our computerized bar-code based inventory control system provides the most technologically advanced document software in the industry. Our customer access portal allows our clients secure on-line access to their documents and all services from any computer with individual user names and passwords.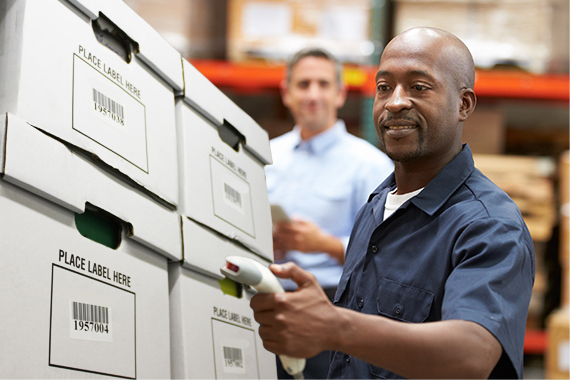 Our Document Management Services
Your file boxes will be bar-coded and each box will be crossed referenced with your internal number system. In addition the box will be indexed using the information you provide for the contents of each box. Our management system will allow you to be as granular as necessary for you to find individual files in each carton.
All of your boxed files will be stored at one of our secure warehouses. Our records centers are equipped with specialty shelving to properly store cartons of paper records. Each shelf location is bar-coded so we know the spot of every box in our centers. Our facilities are equipped with the best security and fire detection systems that are independently monitored 24/7.
Pickup & Delivery of Records
We offer same day and next-day pickup and delivery of your business records. You can order retrieval or removal of files with a phone call, fax, email or online.
When boxes are placed into storage you can assign a destruction date for each carton. When that date arrives we can shred the contents of each carton and provide you with a Certificate of Destruction for your records.
Give Time Document Storage A Call Today!
The creation, storage, retrieval, use, destruction or permanent retention of information of all types and on all media is an increasingly difficult challenge for businesses and organizations. Time Document Storage can help you meet those challenges. Please contact us today and let us assist you with the development and a Document Management program that meets your needs.