THE BENEFITS OF OFF-SITE DOCUMENT STORAGE
One of your firm's most important assets is the information you have on documents and files. Your paper records are absolutely vital to the running of your business. Maintaining your files in your office requires a great deal of space. Offsite document storage is a practical solution with managing and protection corporate records
Outsourcing Record Storage Frees up Valuable Office Space
Filing cabinets are a staple in every office but they do require a lot of space. You never seem to have enough file cabinet draws to store all your documents. A single file cabinet requires about 15 square feet of office space so storing your company's records on site is taking up a large portion your work space. Imagine how much extra room you will recover by utilizing offsite file storage. Since 80% of your files are rarely accessed you can store them offsite with Time Document Storage and use that space for more productive purposes or reduce the office space you need to operate and reduce rent costs.
Time Document Storage Keeps Confidential Information Private
Using an offsite document storage company offers a higher level of security than storing files in your office. We have the experience, knowledge, expertise, and resources to keep your important documents secure at all times. Our facilities are secure and protected with advanced security and fire protection systems. Our staff is well trained and has annual background check with drug screening. Access to all documents is controlled and documented so you always have an audit trail and a chain of custody.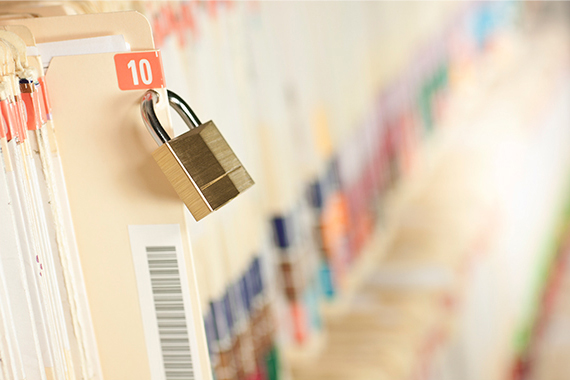 Document Storage Aids in Disaster Recovery
Although we never think it's going to happen to us but sometimes disasters occur like fires, floods, or other unexpected catastrophes. Events like these in your office put your documents at risk. Our offsite storage centers will keep valuable company and client information protected from unexpected damage and available when you need them, allowing your business to get back in operation faster than it would have been possible if your files were only stored in your office.
Offsite Archiving of Documents Reduces Costs
Offsite record storage is more cost efficient than keeping files in your office. Offsite file storage reduces the need for expensive office space. With offsite records storage, you only pay for the number of boxes that are kept at our document storage facility. As your needs change, decreasing or increasing the number of item in storage is easy. You don't have that flexibility with office space.
Record Storage Services is More Efficient
When you choose Time Document Storage for offsite records storage, you will be making the operation of your company more efficient. Our offsite storage solutions are more time efficient than handling your own records. Employees will no longer have to spend time looking for files. It is estimated that as much as 40% of an employee's time is wasted by looking for files. When you use our records storage services, you will have quick access to your documents and all you have to do is make a request that takes a minute or two. Our document management system allows us to locate and retrieve records quickly and efficiently.
Document Storage Service Makes You Compliant
Federal and state privacy laws require that you protect private information. Using offsite document and file storage services makes being compliant easier because the information is always secure and access is controlled and monitored.