ACCESS YOUR DOCUMENT IN STORAGE
Storing your business files offsite at a secure records center is only a benefit if you have access to your documents when you need them. With Time Document Storage you can have your files pulled and delivered to your office the same day as your request or the following day. Here is how it works.
Your Boxes In Storage Are Bar-Coded
Every carton of files you have in storage with Time Document Storage is bar-coded and cross referenced with your internal box number and description in our records management system. When you are requesting a box or file to be pulled and delivered please make sure you have our bar-code number or your internal box number. We will need one of these numbers to start the retrieval and delivery process. If for some reason it is not available we have a number of search alternatives to assist you.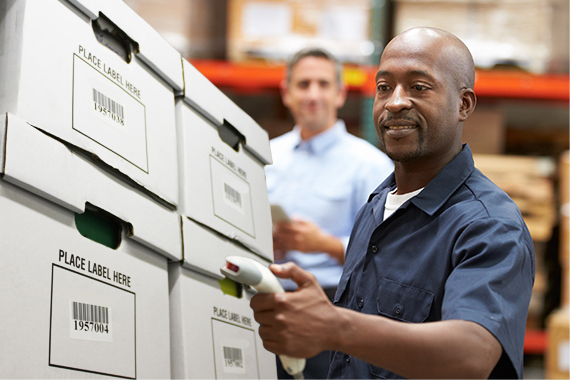 How To Place an Order for Document Storage Delivery
You can contact us by phone, email, and fax or through our online customer portal to place an order. Whichever way you choose to make a file or box delivery request we will act on it right away so you can receive your requested items when you want them.
We Pull Your Requested Box or File
Our staff will enter the requested items into our document management system and create a work order. The work order will list each requested item by our bar-code number and description if there is one. After the work order has been completed it will be printed at the warehouse where the items are stored along with a pull request. Our warehouse staff will then pull the items from the shelf where they are located and move them to our out-going holding area and rescan them so our system knows the boxes have been pulled for delivery. The boxes will be inspected to make sure they are in good condition to be delivered. If any box needs to be re-packed so the contents remain safe and secure our staff will do so.
Load & Deliver Stored Documents
The morning of delivery our service staff will be given the work orders. They will pull, check and scan the boxes listed on each work order and load them on to one of our delivery trucks. Our system knows that the items have left our secure facility and are out for delivery. After loading has been completed the truck doors are closed and locked. When our staff arrives at your office they will bring your requested boxes and or files into your office. Each item will be scanned so our system will be updated to show the items have been delivered. They will go over the list of items that have been delivered and ask you to sign our work order to accept delivery. They will leave you with copy of the work order for your records.
Time Document Storage makes it easy for you to request and have your company records delivered to you when you need them. Our secure document storage facilities are an extension of your file room because of the ease of access we provide to your paper files.