Offsite Storage For Doctors & Healthcare Facilities

Get a quote today to store your inactive patient charts offsite. We can move the medical records that need to be archived into one of our secure records centers as soon as tomorrow. Just give us a call to get started.
Get A Proposal For Medical Record Storage Over The Phone
Our knowledgeable staff is available to talk to you about the offsite storage of your medical records. We'll explain how our services work and give you a quote right over the phone and follow up with a written proposal that will be emailed to you right away.
Your Patients Charts Are Always Available
When you need a medical record out of storage we offer same-day and next-day delivery to your office. So if an inactive patient becomes active again just give us a call and we can pull that file and deliver it when you need it delivered. No waiting or excuses we pull and deliver the charts you need out of storage when you want it done.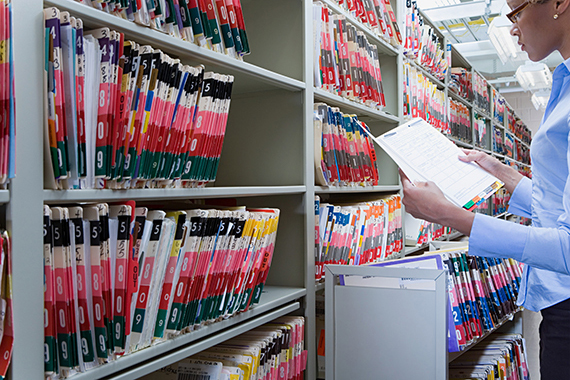 Advanced Inventory Control System
Time Document Storage uses on of the most advance inventory control systems for the storage of medical records. This industry specific software allows for custom indexing of protected health information so you will always have quick access to the charts stored in our facility. With easy and fast retrieve your records will be available without delay.
Scan On-Demand of Medical Records
Reduce scanning costs with our Scan On-Demand Service. Place patient files in storage and when you need a chart or a particular document we can pull it, scan it and email it to you so you can upload it into your EMR system. Why pay for expensive scanning when you can do it only when necessary.
HIPAA-Compliant Medical Records Storage Services
Your primary consideration when you are thinking about using HIPAA compliant offsite storage is the security of your medical records. Time Document Storage's policies and procedures are HIPAA Compliant which protects against unauthorized access to Protected Health Information (PHI).
Quick and Easy Access To Stored Medical Records
If you need to access to a chart, you have a number of options, including:

Place a request by telephone, email, fax or online customer portal.

Same Day & Next Day delivery to your office.

We help you prepare your boxes for storage.
Secure Records Storage Facilities
Our storage facilities are equipped with state of the art security and fire protection systems that are monitored 24/7. Physical access to our data centers is strictly controlled. Only our employees and chaperoned visitors are permitted access. Perimeter doors are secured at all times. Visitors and employees that do not have the security lock combinations or keys and signage alert our authorized staff of the presence visitors by pushing a doorbell. Our facilities are also monitored with closed circuit video security to oversee the exterior and interior of our warehouses. All video monitoring is recorded and saved for a minimum of 90 days.
Advantages of Medical Records Storage with Time Document Storage
Our medical records storage services provide hospitals and private practices with numerous advantages, including the following.
• Reduce office space requirements and expense.
• More efficient use of your office space that can be devoted to patient care.
• Quicker and easier file access.
• Our indexing and scan-on-demand services make it easy to access files right when you need them. You and your staff will spend less time locating records.
• Better security and HIPAA compliance.
• Timely destruction of medical records when retention requirements have been met.
Have A Business Associate Agreement With Your Storage Vendor
The HIPAA Rules require that covered entities enter into Business Associate Agreement (BAA) with their business associates to ensure that the business associates will appropriately safeguard protected health information. As a provider of services to health care organizations, Time Document Storage has a standard Business Associate Agreement (BAA) to govern the storage and protection of your patient records. We are happy to provide you with a copy for your review.
The benefits offered by our offsite medical records storage services allow you to spend more of your time helping your patients.