The team at Time Document Storage (TDS) has been providing record storage services since 1968. TDS was started because of the need for offsite storage for clients from our commercial moving business. TDS quickly established itself as a force in the document storage industry; because of our ability to securely store business records and make them available to our clients when they need them with our same day and next day service. TDS purchased its first warehouse in 1970 and presently owns over 1.5 million cubic feet of document storage centers.
Our mission is to deliver reliable, unique, comprehensive and cost-effective offsite document storage and records management solutions that accommodate any size business and budget.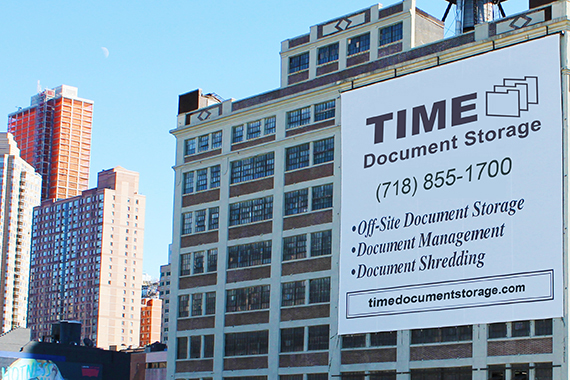 With three conveniently located records centers an office staff of 15, a warehouse staff of 25 men, a delivery staff 20, a fleet of 10 delivery vehicles and a fleet of 11 mobile shredding trucks, Time Document Storage has the resources to meet the archiving needs of its' diverse clientele.
Why Choose Time Document Storage
Time Document Storage's abilities, resources, experience and management sets us apart from our competition.  We offer our clients custom solutions to store their company files offsite with a commitment to deliver the critical documents back to their office when they need them even if it is today.  We are a locally owned and operated company that focuses on providing a superior service you can rely on not some national conglomerate where you are just a number and every time you call you never know who you are going to be talking to.   We get to know you and your company's needs.  You will get to know our customer service staff on a first name basis so you will always have someone you know to work with.
Our Record Storage Services
Bar-Code Inventory Management System
Our document management software allows TDS to easily and accurately manage, track and monitor the location and activity of any item we are storing in our record centers, from deposit to destruction. Searching for files is easy because we create custom index fields for each carton.  You can have a number of index fields that match the file identifiers you use in your office.  Every box and location in our facilities is assigned a unique bar-code.  With that bar-code we know where the items are in our facilities.  Our bar-code technology will allow you to see a history of any action taken on a file or box, including who is in possession of the record.
It is a true testament to the superior record storage services we provide because 33% of our new customers come from client recommendations.