Secure Document Storage Services in Westchester NY 914-233-0389
We can give you quote to store your records offsite today and start moving your boxed files in to one of our secure document storage centers tomorrow.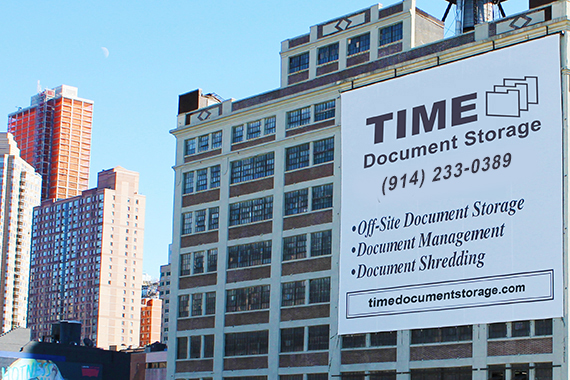 Let Our Storage Experts Help You
If you're looking for records storage services in Westchester NY give Time Document Storage a call.  We are a local company that has been trusted by local businesses for over 50 years.  Speak directly to one of our staff that are located right here in the Westchester area.  They will be able to provide you with pricing for all the services you will need to store and have access to your files right away.  We will also email you a written quote and if you want to proceed you can schedule the pickup of your boxes into storage.
Fast Access To Your Stored Documents
We want to be an extension of your office.  Whenever you need to retrieve boxes from storage you can make a request by phone, email or through our online portal.  You can request deliver today, tomorrow or any day that is best for you.  Your cartons will be delivered right to your office and placed where you want them by our helpful staff.
How Businesses Benefit From Document Storage in Westchester NY
Many companies still generate plenty of paper records. Whether you keep hard copies for redundancy or you have paper files going back many years it is always safer and more efficient to store them offsite.  Time Document Storage in Westchester's best solution to store and have access to business records.  Each box is bar-coded and scanned into our document management system so it is easy to quickly locate and deliver the documents you need.  No more wasting of your staff's time looking for files.  Deliveries from one of our records centers to your office can be done the same or next day following your request.
Safety and Security is Priority One for Your Documents
We know how important your documents are to you — and we treat them that way. Everyone who will handle your documents from our company is background-checked and drug tested annually so you can be comfortable with the people that will be handling your valuable information.  Your documents will be stored in a high security storage facility with controlled access and state of the art fire and security systems that are independently monitored.  Surveillance cameras are constantly recording all activities in and around our buildings.  You will find that your documents are much safer in our hands than they were onsite.  You may be currently keeping documents in an uncontrolled environment where anyone who has access to your offices can have access to your documents. That's not the case when you trust us with your document storage.
Contact Time Document Storage for Records Management Services in Westchester Now
Let us show you why storing your business records offsite with Time Document Storage is your best alternative.  We're ready right now to speak with you and get the process started.  Give us a call or complete our online form and we will contact you right away.