Document Storage services Queens NY (718) 855-5222
Secure Offsite Storage That's Available Right Away
If you are looking for local records storage company in Queens NY that provides great service you have found one, Time Document Storage.  We can give you a quote today and get your documents picked up and moved into storage tomorrow.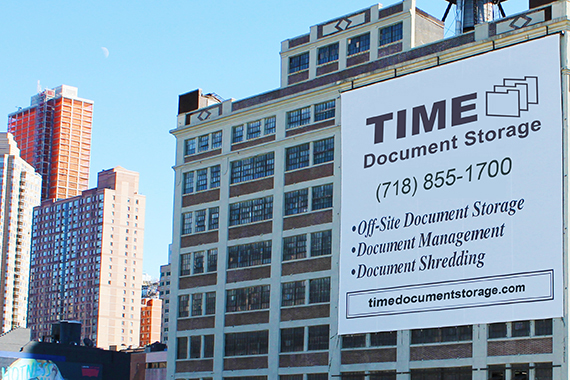 Your Business Records Are Easily Accessed
Not only will your information be protected and preserved for years to come in one our secure document storage centers, but you'll also have access to them when you need it. You can have boxes and files delivered back to your office the same day or the following day by just making a request.  You can call and email us or use our web-based records management portal that offers you 24/7 access to your files.
Secure Document Storage Delivery to Your Office
When you place an order for files to be sent back to you they will delivered right to your office by our staff.  Your boxed documents are loaded onto our trucks that are manned and locked at all times your files are inside.  Our trucks always have at least two men on them so a member of our staff remains with the truck so your records are never left unattended.  When we arrive our staff will bring the boxes into your office and place them where you want them.
Bar-Code Inventory System
Our document management system uses bar-code technology to track your files from the time they come into storage until they have reached the end of their life-cycle and are destroyed.  We bar-code every carton in storage and we can also bar-code the individual files inside a box.  Every shelf location also has a bar-code so we know where every box in our centers is located.  Our records management system will also maintain the complete history of every activity of every carton.
Timely Destruction of Files
There are many benefits to destroying documents when they can be.  It reduces storage costs and the exposure to costly discovery in litigation.  Our storage management software will allow you to put destruction dates for every carton so you can order destruction of files that have reached their retention requirements on an ongoing basis.  Time Document Storage will securely shred your documents so the information has been securely disposed of in accordance with privacy regulations.
Our Document Storage Services Include:
• Offsite Records Storage
• Document Retrieval & Delivery
• Indexing & Inventory Tracking
• Records Retention Scheduling
• Comprehensive Records Management Services
• Document Shredding
• Scan On Demand
Our Record Storage Centers
Whether you have a box of documents to store, or an entire warehouse full of files, our record storage facilities have the capacity to safely store your information on paper.  Our centers are equipped with specialty shelving made to properly store boxed documents.   Our offsite records storage facilities are equipped with state-of-the-art fire protection systems and security systems that are monitored 24/7 with surveillance cameras that record all activity inside and outside our buildings.
With Offsite Document Storage Gain Office Space and Increase Staff Productivity
Our document storage solutions help you free up valuable office space for more revenue producing activities.  Since your staff will not be wasting time looking for files they can be more productive with tasks more important for the operation of your business.
Give Time Document Storage a call today to get a quote right away.