Record Storage Bronx NY (718) 855-5222
Give Time Document Storage a call today and we can give you a quote to store your documents today and we can pick up your files for storage when you want it done.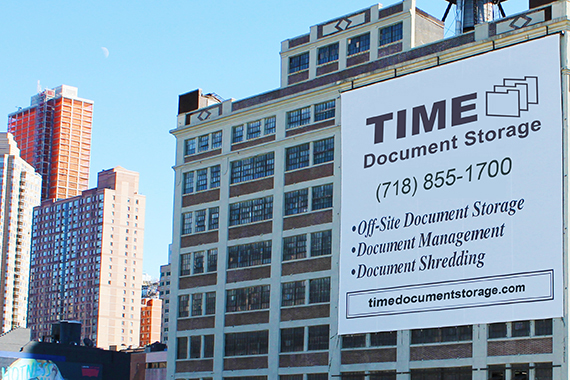 It's Simple to Start Storing Your Documents
• Make one call to Time Document Storage to get a quote for all the services you are going to need to store and have access to your records.
• We can move your boxed files into storage right away.
• We can assist you with getting your files ready and packing them into boxes.
• If you need boxes we can supply them.
• All boxes are bar-coded and scanned into our inventory system• At our facility your cartons will be scanned into our computerized inventory system.
• Your documents are immediately available for delivery when you need them.
Same Day & Next Day Delivery of Records from Storage
Your company records are easily accessible via the Internet, email, phone, or fax. Your boxed business files are delivered directly to your office in the Bronx. Your files are transported in company owned vehicles with a staff of two employees so your business documents are never left unattended. TIME Document Storage provides next day and same day delivery services.
Secure Record Storage Centers
Time Document Storage owns and operates three secure document storage facilities in the New York City area.  All of our centers are equipped with advanced fire protection and security systems that are independently monitored 365 days a year.  Surveillance cameras monitor and record all of the activities inside and outside.
Experienced Trained Document Management Staff
TIME Document Storage is committed to providing you with industry leading customer service and support. Our experienced staff will handle your firm's specific account requirements. Each client has access to a dedicated team of professionals who care about their business and always respond to their needs. All of our staff is background checked and drug screened annually.
Our Record Storage Services
• Offsite Document Storage
• Retrieval & Delivery
• Document Management
• File Indexing
• Record Retention Schedules
• Scan on Demand
• Document Shredding
When documents you have in storage are no longer needed or have passed the retention requirements Time Document Storage can securely shred them for you.  Our shredding equipment will turn your papers into tiny unreadable particles that will them be recycled.  We will also provide you with a Certificate of Destruction for records.
Why Time Document Storage is Your Best Choice
TIME Document Storage is a locally owned full service business records storage company serving New York, New Jersey and Long Island. We are large enough to provide all of the services any firm will need and small enough to provide the excellent service you want. TIME Document Storage provides offsite business record storage services in the Bronx NY to help companies manage their documents from creation to destruction. Take advantage of our over 50 years of experience with storing documents for businesses and organization across all industries in the Bronx area. We provide secure business records storage facilities, on-time delivery, indexing, destruction, and consulting services. Our customers enjoy proven solutions, leading technology and true value for the services we provide.
Give Time Document Storage a call today for an immediate quote.