Mineola NY Offsite Document Storage (516) 690-8998
A Quote Today, Start Storing Records Tomorrow!
Time Document Storage provides offsite record storage services to Mineola business and organizations with quick access to their document whenever they need them. Our secure records centers are designed to provide for the proper storage and security of our client's documents.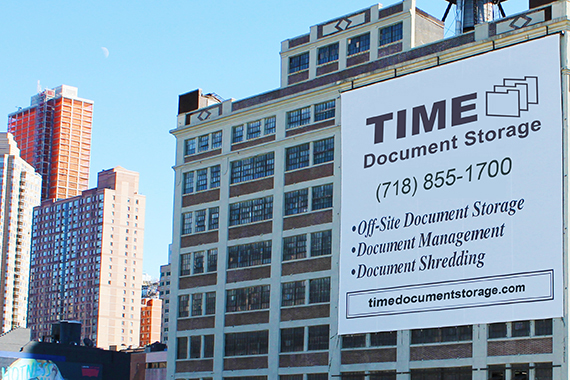 Start the Offsite Storage Process Today
• Give us a call so we can provide you with pricing for all the document storage services you will need.
• We will help you prepare your boxed files for storage.
• We can supply you with cartons
• We inventory your boxes with our bar-code document management system.
• We move your records to one of our secure records centers as soon as you want it done.
• You files are immediately available for access.
Quick Access To Your Offsite Record Storage
What good is storing your business records offsite if you can't have access to them when you need them?  That is not an issue with Time Document Storage.  Your files are available to be delivered to you the same day as your request or the following day. You can set up a delivery by giving us a call and speaking to one of our local staff, send us an email or use our online client portal.  All deliveries are performed by our staff.  Your items will be brought right into your office.
Our Secure Document Storage Delivery Vehicles
Time's delivery fleet is customized to ensure protection of our client documents while in transit. Each vehicle is GPS guided and tracked, with activity history recorded and retained for at least ninety days. Our office staff use a fleet management program that tells us at all times where our trucks are. For maximum security, all vehicles are manned with two of our staff so your files are never left unattended.  The vehicles remain locked at all times.
Our Record Storage Centers
Time's facilities are constructed of a combination of brick, concrete block and steel. All facilities are above-grade and located outside of flood-zones.  Our warehouses offer a high level of security with controlled access, advance fire and security systems with CCTV surveillance.  Your boxed files are stored on shelving designed for then proper retention of documents. Automatic lighting eliminates our properties from dusk to dawn.  Visitor access is strictly controlled and are always chaperoned.
Offsite File Storage is Good for Your Business
Our record storage service frees up office space and helps you to better organize and control your company files.  Since 80% of your company documents are never accessed after the initial use why tie up valuable square footage in your office when you can safely store them offsite for a fraction of the cost and retrieve them whenever you need them.  With our document management system we inventory and track your files so you always now where they are and have a history of all of the files activities and who had access to them.
Time Document Storage invests heavily in security and protection measures so that our clients can be confident that their documents are safe, secure and available when the want them. Call for a quote today!