Document Storage Services Islip NY
If documents and files are taking up to much space in your office you can store them securely offsite with Time Document Storage.  You can get a quote today any have your boxes picked up and moved into storage tomorrow.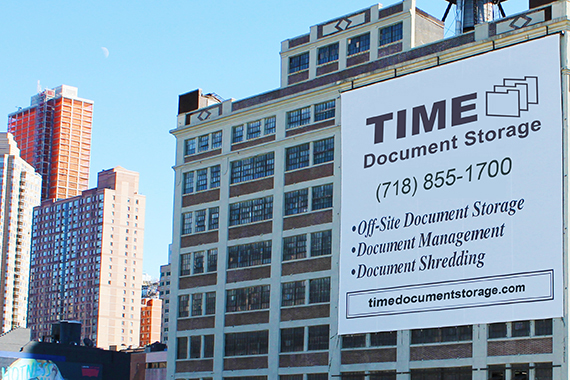 Let's Put Together an Offsite Record Storage Program for You
Speak to one of our local storage experts.  We are a company based right here on Long Island not some national company where you become a number.  Let our experience put together a document management program that makes it easy for you to have access to your files and is cost effective.  We will give you a quote over the phone today and send everything to you in writing immediately following your call.  If you are ready to take the next step we can start moving your documents into storage tomorrow.
You Always Have Access To Your Files in Storage
Not only do we free up valuable office space and manage your records in storage but you have access to them whenever you need them.  Just make a request for delivery by phone, email or online and we will pull and deliver your documents to your office today or the following day after your request.  Just let us know which you prefer.  Your boxes are delivered by our staff in one of our secure vehicles and we place them where you direct us to.
If you can't wait for a document to be delivered we can email it to you with our Scan on Demand Service.  Just let us know what file or document you need and we will pull it, scan it and email it to you right away.
Our industry specific document management system will manage your records in storage from the time they are in our facility until they are destroyed or permanently removed.  Our bar-code based technology allows us to bar-code each carton and if necessary every file in a box.  Every location in our records centers are also bar-coded so by scanning the box and location we always know where your cartons are in our facilities.  When boxes are requested to be delivered our system keeps track of who the box was requested by and delivered to.  Our system will record and maintain a complete history of all activity of every carton.  Our system will allow for custom descriptions of the contents of each box.  We can input many different file identifiers so it will give you many options for files searches.  You will also be able to set up destruction dates for boxes so they don't have to be stored for any longer than necessary.
State of the Art Records Centers
Our secure document storage warehouses are equipped with the latest security and fire protection technology that is independently monitored.  CCTV cameras continuously record all of the activity around and in our locations.  Our locations remain locked at all times with controlled access.  Our records centers are outfitted with shelving that is designed for the proper storing of boxed documents.
Give Time Document Storage a call today to get a quote right away.